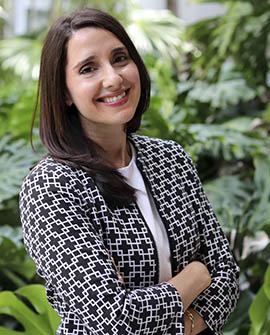 Rony Shir
Assistant Dean, Executive Education
(O): 305-284-6889
rshir@miami.edu
Rony Shir is the Assistant Dean overseeing Executive Education at Miami Herbert Business School. In her role, she focuses on leading the strategic and operational priorities of the School's Executive Education Department. Rony works closely with faculty and staff to develop and deliver a portfolio of non-degree programs and facilitate collaboration and sustainable partnerships with clients. She oversees program design and implementation focused on the financial and operational aspects, with keen attention to the success in both content delivery and program execution. She graduated valedictorian and Summa Cum Laude from the University of Miami's Professional MBA Program.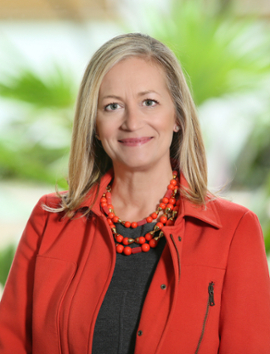 Ann Olazabal
Vice Dean, Lifelong Learning & Executive Education
(O): 305-284-4508
aolazabal@bus.miami.edu
Ann Olazabal is the Vice Dean of Lifelong Learning and Executive Education at Miami Herbert.  For her full biography, click here. 
Frequently Asked Questions: General Inquiries
The University of Miami Herbert Business School Executive Education Program is open to mid- to senior-level managers seeking to enhance their leadership skills and managerial expertise. We tailor programs for organizational teams from a wide range of industries, as well as the nonprofit sector, and welcome participants from finance, sales, marketing, operations, human resources, or any other area of the organization.
Executive Education programs are tailored and vary in duration. Average program length is 3-5 days, but we can adapt to any timeframe, from condensed 1-day sessions up to 15 weeks of content.
Your program facilitator will work with you to establish the programming that best suits your needs. Communication will remain open throughout the program to allow you to address any questions or concerns. Your facilitator will likewise reach out to you at the end of the program for final details and program completion. 
You may expect to dedicate about four to eight hours a week. You are responsible for setting your own schedule outside of set dates and times for lectures or modules. For the best learning environment, we recommend that you pace yourself throughout the week without cramming for end-of-week deadlines.
The Executive Education courses comprise a non-degree program and do not provide university credits or a diploma. You will receive a certificate of completion upon successful evaluation of all assignments and active participation.
While program completion will not be based on grades, all assignments will be evaluated for thorough adherence to specified requirements.
Within the first few days of the course start date, participants receive access to a dedicated course website with all course material, including syllabus, videos, assignments, and any other relevant content. Each student will have a login and password.
Yes, you may access the course website either on desktop or mobile device. Your program facilitator will provide the steps to follow for mobile device access shortly before the program start date.
For in-person programs, we limit participation to 50 team members. For teams larger than 50, an online format may be a better fit. However, we try to cap large teams in either format to enable program facilitators to provide responsive and reliable feedback to all students. We maintain a boutique-style approach for a satisfying and fulfilling learning experience.
Frequently Asked Questions: In-Person Programs
Communication with your program facilitator or faculty member may occur through email or online through the program discussion board.
All coordination will occur between you and your program facilitator. Our designated faculty member will visit you at your facility or a designated conference hall for lectures and established programming.
Frequently Asked Questions: Online Programs
Our online programs may be either asynchronous, meaning without live faculty presence and delivered through recorded presentations, or synchronous, with a live faculty member conducting lectures via Zoom-enabled technology.
Communication can occur through the website discussion board and email. Also, your facilitator will be in continuous communication with announcements and program details.
All team members may communicate asynchronously through discussion boards and group sessions enabled in the online course portal.
Location
Miami Herbert Business School
5250 University Drive
Coral Gables, FL 33146