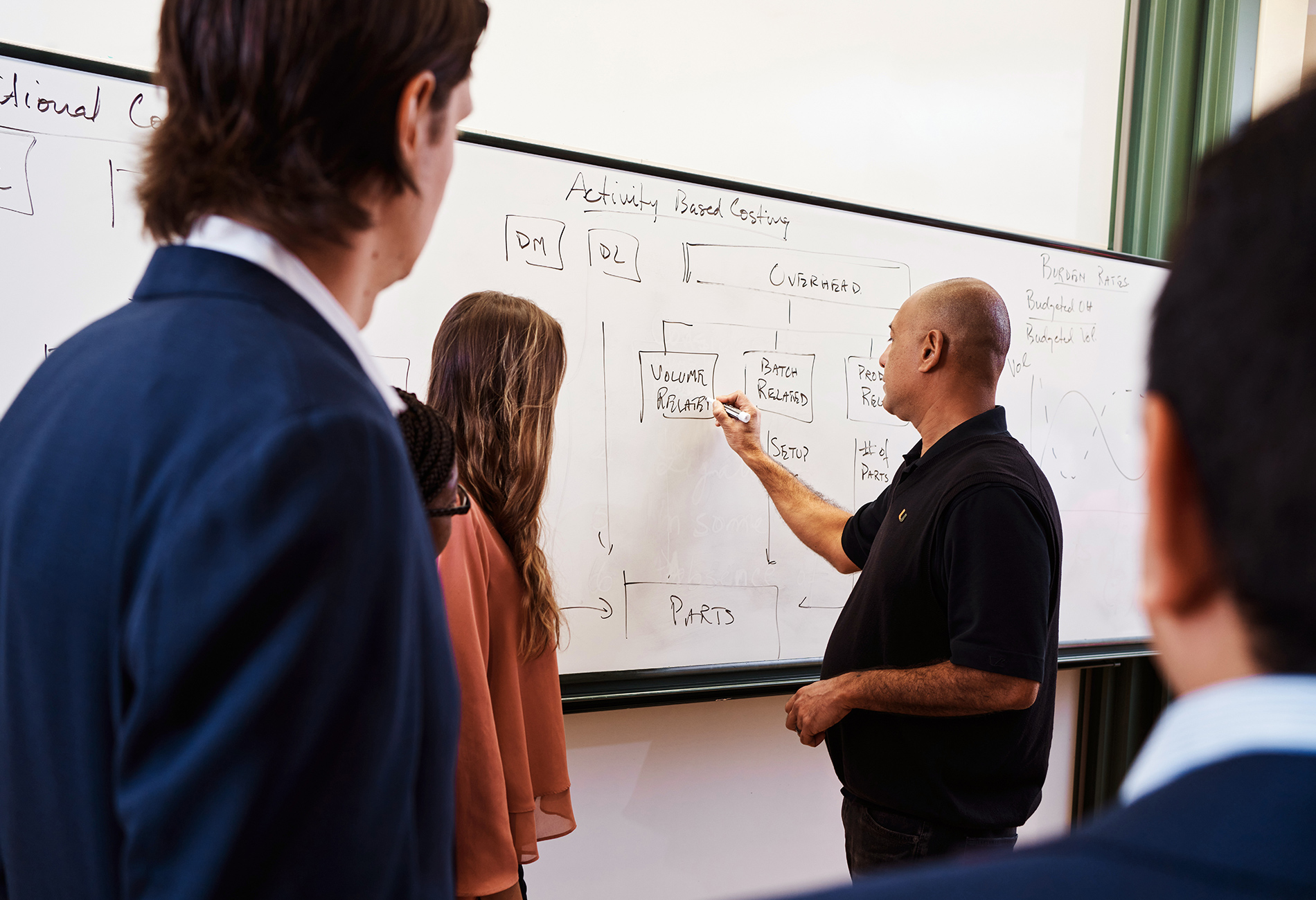 Make the Choice for Your Career
Leverage your passion to get ahead. Gain new skills in your area of interest to supercharge your career potential. You'll be more valuable to organizations and more competitive in the marketplace.
Choose from a suite of programs focused on specific career paths. Most of these full-time programs can be completed in less than a year. Miami Herbert Business School undergraduates who go straight into these programs can spend one extra year in Miami for a master's degree and a competitive advantage.
Degree Options
Our STEM-designated Master of Science in Accountancy program focuses on financial and managerial accounting, auditing, and systems to build the expertise you need to accelerate your career. The program offers two tracks: Assurance, for students entering public accounting, and Corporate, for students planning careers as controllers, CFOs, or financial analysts.
Master of Science in Accountancy
The Master of Science in Business Analytics program is an intensive experience that will arm you with the skills necessary to understand, manage, and use big data in a business context. Learn how to turn abstract data into meaningful insights to predict consumer behavior and forecast revenue and expenses for virtually any business model and any industry.
Master of Science in Business Analytics
Finance (STEM-Designated)
With more than 60 international banks and 100 alternative investment companies, Miami is the second-largest financial hub in the country. In our Master of Science in Finance program, you can gain the knowledge and confidence to make critical decisions for any organization and join the financial leaders of the future.
Earn your Master of Health Administration degree at Miami Herbert Business School to position yourself as a leader in the rapidly changing health care industry and make a positive impact. Hone your skills in business fundamentals, gain knowledge in industry-specific areas, and apply what you learn through an off-site internship experience.
Master of Health Administration
As the most international city in the U.S., Miami is a dynamic business hub with a rich multicultural professional community. Through our Master in International Business program, you will develop a global business mindset and gain first-hand exposure to global markets, preparing you to implement sustainable, integrated strategies within multinational corporations in any industry.
Master of International Business
Develop the interpersonal and management skills you need to influence others and lead effectively in today's complex workplace. Designed for working professionals currently in managerial roles, the Master of Science in Leadership allows you to immediately apply the concepts you learn to strengthen your leadership style and spearhead organizational change.
Master of Science in Leadership
Be a force for good from inside a company with the expertise you develop in the Master of Science in Sustainable Business program. Our unique interdisciplinary approach unites business, science, theory, and practice to prepare you to lead in this fast-growing field. Make a positive impact on the environment and society while increasing the long-term value of your business.
Master of Science in Sustainable Business
Taxation (STEM-designated)
Develop expertise in federal taxation, including tax research, tax compliance, and tax planning, through the Master of Science in Taxation program. Prepare for careers requiring specialized tax knowledge in public accounting, private industry, or government.
The Miami Difference
The city of Miami is a thriving gateway between the United States, Latin America, Europe, and the Caribbean.
#1
Miami has been ranked the #1 most international city in the U.S. by the U.S. Census Bureau.
1,400
Miami serves as the headquarters of Latin American operations for more than 1,400 multinational corporations.
100
Miami is home to a diverse group of people from over 100 countries.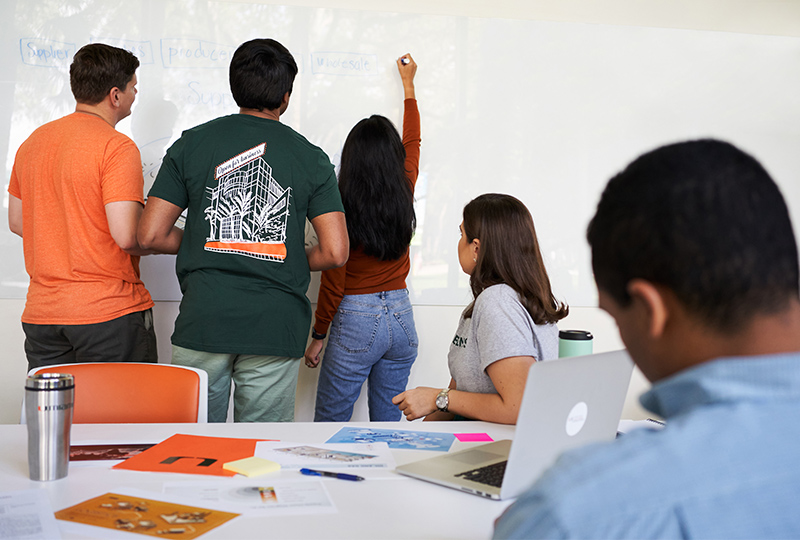 The Miami Experience
Miami Herbert Business School's interdisciplinary approach to graduate education in the business and cultural vibrancy of Miami immerses you within the exchange of ideas of a diverse student and faculty community and strengthens a global mindset for today's evolving marketplace. Explore the city, student groups, experiential learning opportunities, and networking events for a look at the many resources and dimensions to your graduate education.
Explore the Graduate Experience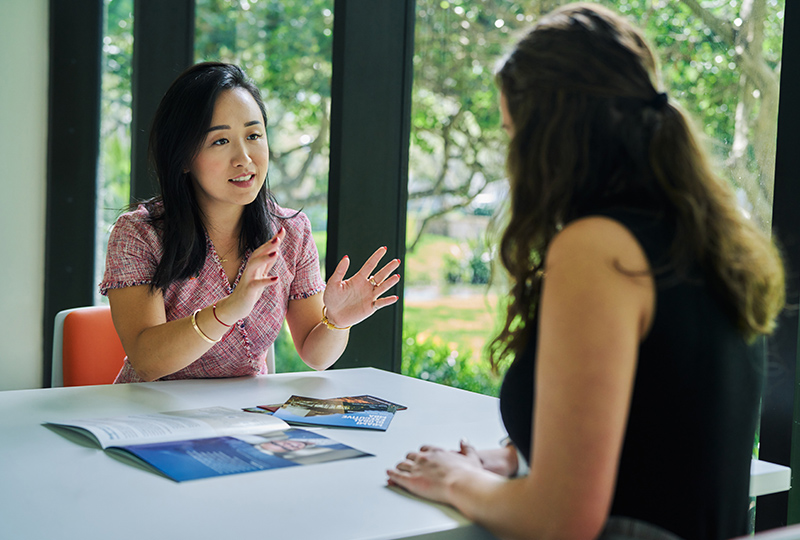 Financial Aid and Scholarships
A degree from Miami Herbert Business School is an investment that will pay dividends for years to come. We're committed to helping you afford this investment. Students typically fund their studies through a combination of our merit-based scholarships, external scholarships and grants, federal and private loans, and personal savings.
See Financing Options
Double 'Cane Scholars Program
If you are completing your undergraduate studies at the University of Miami in the upcoming fall or spring semester and are interested in a future in business, the Double 'Cane Scholars Program is designed for you.
Learn More