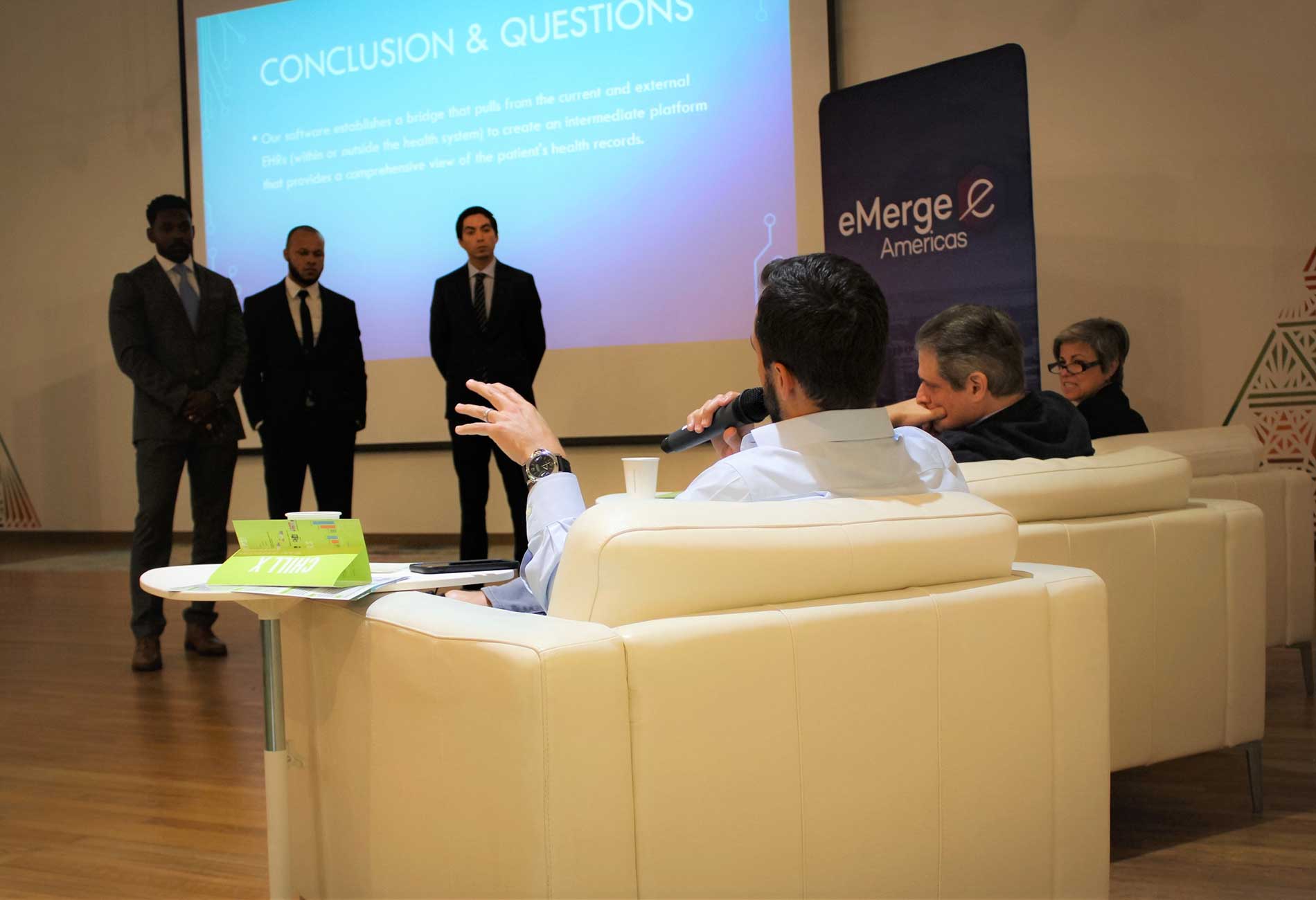 Business Plan Competition
Business Plan Competition
Benefits to Students
Experience creating a business model and develop a business plan
Familiarity with primary/secondary market research and the process of conducting feasibility studies
Experience working as part of a team
Opportunity to develop/grow their organizational and communication skill
Description
The Miami Innovation Adventure is a startup business competition that encourages all UM students and Alumni (graduation years 2009-2019) to create something "out of the ordinary" by closing the gap between a market need and a real solution to TAKE MIAMI (or your preferred city) to the NEXT LEVEL.  It fosters pitches, workshops, mentoring and judge interaction while giving student-entrepreneurs real-world experience.  
Theme
University-wide competition to "TAKE MIAMI (or your preferred city) to the NEXT LEVEL". 
How/When to apply?
You will need a business idea in the startup or early growth stages.
GENERAL INFORMATION
The judging criterion for the Miami Innovation Adventure (aka UM Business Plan Competition) is to select the most believable plans. 
The judges are successful entrepreneurs and the rankings will be guided by the scoreboard (see below), but should be consistent with the approach that would be used by an early stage investor.
The Final Round will be held on Tuesday, April 4, 2023.  All selected teams MUST be available on this date to present their plan to the judges at the times indicated on a detailed schedule provided in advance.
Multiple business plan submissions are NOT accepted. Each individual or team should only appear in ONE submission. Teams are expected to state how much financing they are looking and we recommend that teams be prepared to address questions about their terms. 
Confidentiality
The only individuals who will have access to your written business plans are entrepreneurship program staff, your mentor and the judges who are assigned to read your plan.
Scoring Criteria – Business Plan
The ranking will be based on the believability in the venture.  Judges will rank the teams from first and so forth, sequentially.
Judges will fill-out three scorecards for each team in the Semi-Finals Round (after having judged the written business plans and only selected teams invited to pitch in that round). 
Scorecards cover:
| | | |
| --- | --- | --- |
| Part I | Written Business Plan | 25% |
| Part II | Verbal Presentation | 25% |
| Part III   | Business Viability | 50% |
Judges will review the written business plans of each of the teams in their track and complete Part I of the scorecard for each plan. 
Part I is designed to help assess the written business plan, focusing on key elements and the effectiveness of the summary financial data.  Judges will evaluate the written business plan in advance of the competition and complete Part I of the scorecard online.  We will make every effort to provide the feedback to teams prior to the semifinal round.
Scoring – Semifinal Oral Presentations
Each judge will listen to and evaluate the oral presentations of the teams in their track on Tuesday, April 4, 2023.  Judges will use Parts II & III of the scorecard to determine their rankings:
Part II assesses the poise and professionalism of the presentations
Part III evaluates the perceived believability of the venture
The winning teams from each of the tracks will be determined by the total scores for Parts I-III.  They will then be invited to pitch during the Finals on April 4, 2023.
Scoring – Final Round
Winning teams in the final round will be determined solely by the judges' ranking of the teams.  This ranking will be determined Friday night (April 2) after all of the teams have presented to the judges. 
The rankings from each of the judges will be added and the teams with the best total scores will be the winners in each track. 
Please ONLY submit a 5-page business plan including the information below and a 1-page appendix.  Failure to comply with the rules/guidelines may be subject to disqualification.
Business Plan (total pages 6) should cover:
Executive Summary (i.e. company overview)
Product or Service description (i.e. problem solving);
Industry/Competitor Analysis;
Market/Customer Analysis; Marketing and Sales Plan;
Management Team and Staffing Plan
Appendix - Financial Summary and/or Projections (1 page max)
Financial Data: Financial data should include a cash flow statement, income statement, and balance sheet.  We recommend projecting annual financials for at least five years along with a monthly plan for year 1.  Data should be included in a summarized fashion in the main section of the business plan.  Explain the offering to investors indicating how much money is required, how it will be used and the proposed structure of the deal (i.e. stock, debentures, etc.) and possible exit strategies.  Detailed financial data and tables can be included in the appendices.
Appendices: Should be included only when they support the findings, statements and observations in the plan.  All appendices must fall within the one-page limit; any pages over this limit will not be posted or otherwise provided to the judges.
LINK for submitting your business plan:  The final written business plan should be submitted using the link below on or before 11:59 am (EST), on Monday, March 15, 2021. 
Please submit an electronic version as a PDF or Word doc using this link:  
Submit paper here   

Any other delivery form will not be accepted.  Only teams meeting this deadline will be considered for this competition. Instructions on how to submit are below.
Changes to your Business Plan:  Once your written business plan is submitted by Tuesday, March 17, 2020, you will not have a chance to modify it. 
Please use the following link to submit your business plan: https://cmt3.research.microsoft.com/MIA2020.  When you click it, make sure you are using Chrome as your web browser.  If not, please copy/paste into Chrome.
If you are a NEW participant to the business plan competition and did not submit a business plan or concept paper last year, please click on "Registration" and create a new account with your personal information (under Organization name, use UM), then click "Register". After, please verify the activation link in the email address you provided by clicking on the link provided  (it might take a few minutes).  Log in again and go to step "a" below to continue.
If you have already submitted a concept paper or business plan last year and remember your email address and password, please log in. If not, please follow the instructions on   # 3 above to create a new account using a different email address.
Once you have created a new account and verified the activation link or logged in using a previous email address: type Miami Innovation Adventure 2021 in the search bar on the top right-hand side. Do not hit "enter" right after, just wait until the name shows up in the list, then you click on the name and this will take you to a new page. 
Once you are logged in, please click on "create a new submission" and select your track: Undergraduate or Graduate/Alumni. 
Fill out the title of your business idea/project and an abstract/description (brief).
Add any other members to your team (name, last name, phone, organization or school you/student is attending, if a current student). You must fill in all of the team members' information and the school they attend (if an enrolled student) before you can attach and submit your business plan.
Attach your Word/Pdf document in "Upload from computer" link.  Make sure you are ONLY submitting 6 pages maximum (including the appendix).
Fill out additional questions for all members in your team.
Click "Submit"
If you encounter any problems or have any questions, please email us at mbsentrepreneurship@miami.edu.
The Miami Innovation Adventure and is open to all University of Miami students in good academic and financial standing during the current academic year.
There are 2 tracks to participate: Undergraduate and Graduate/Alumni (graduation years between 2009-2019).  You may participate alone or in a team.  If you are an Undergraduate student competing in a team, all your team members must be Undergraduate students as well. If you are a graduate student and/or alumni, you may have mixed teams among the graduate and alumni, or just graduate or alumni students, or alone.  UM Employees (even if enrolled students) are not allowed to participate.
Non-degree seeking students are not eligible.
Students may enter as individuals or teams, but each individual may only be involved with one plan.
Must meet guidelines and key dates - no exceptions!
No University of Miami employee, whether alumna/us, student or otherwise, may be part of a team. Their participation or affiliation will automatically make the team ineligible to compete.
The student or team could win prizes up to $100,000 (including in-kind) among both tracks and depending on winning place.
March 27, 2023 - 5 page written business plan plus 1 page appendix