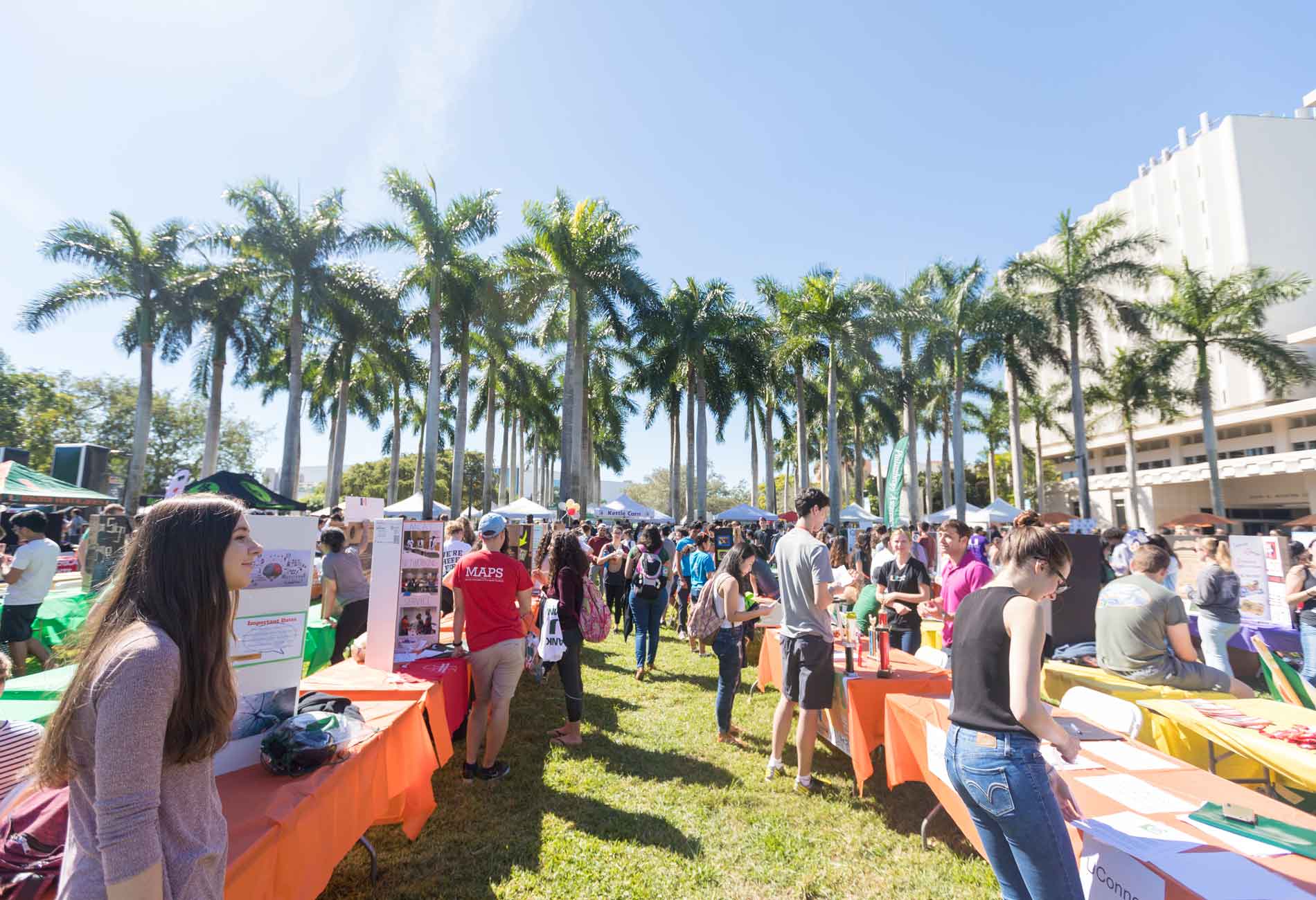 Get Involved with Miami Herbert Clubs and Organizations
"It's a 'CANE Thing" takes on new meaning when you are an active member of our student community.
Get Involved with Miami Herbert Clubs and Organizations
Getting involved in student life generates a sense of belonging and is essential for a full and dynamic undergraduate experience. With more than a dozen business-oriented clubs and organizations, you are sure to meet new people and discover an array of activities that match your interests. From organizing a professional networking event with Women in Business to representing Miami Herbert in a case competition for our student chapter of the American Marketing Association (AMA) or the Ethics Society, you will develop your leadership skills and build relationships that will open doors for a lifetime of opportunities after graduation.
University Clubs and Organizations 
 The University's Department of Student Activities and Student Organizations serves as a resource for student leaders, programming boards, and over 300 registered student organizations through advising, leadership development, and organizational support services. Click here to learn more.
AKPsi is a national, professional, coed fraternity dedicated to enhancing the development of future business leaders. AKPsi offers its members opportunities to make connections across all academic disciplines, providing the tools necessary to succeed in the business world.
Membership in the AMA connects you to marketers across all specialties. Gain practical experience, collaborate, network, and empower your career. You'll get industry knowledge and cutting-edge insights along with everyday resources that will help you in the classroom and beyond. The president for AMA is Trudi Fleishman, trf44@miami.edu.
Beta Gamma Sigma is the international honor society serving business programs accredited by AACSB International (Association to Advance Collegiate Schools of Business). Membership in Beta Gamma Sigma stands as the highest recognition a business student anywhere in the world can receive in a business program accredited by AACSB International. Students are eligible starting in their sophomore year.
The Canes Finance Association seeks to provide and amplify basic and advanced knowledge of financial related topics to its members while also fostering intellectual and career development initiatives. The organization also promotes financial literacy across campus, builds long-lasting relationships with members and established financial experts, as well as helps construct a strong supportive community of young professionals. Students from all schools and colleges are welcome.
Email: 
canesfinanceassociation@gmail.com
DSP is a professional and coed fraternity organized to foster the study of business in universities. Delta Sigma Pi offers a full range of activities, which promote professional and leadership development.
The University of Miami Economics Club supplements classroom education through the practical application of theoretical knowledge to current economic issues and concerns. Members regularly initiate and facilitate discussion on recent business news and trends. The club also promotes economic literacy among students so that they will obtain an understanding of basic economic concepts in order to make informed and accurate decisions about earning, saving, spending, investing, and sharing money.
Open to all enrolled undergraduate or graduate students from all schools and colleges, UStart Miami fosters entrepreneurialism, innovation, and creativity. The club sponsors educational and social events that enable first-hand learning of the knowledge and skills to organize, operate, and manage risks of a business venture. Members are encouraged to build relationships between multi-disciplinary students who have similar interests, and to establish the networks that have become critical to success in the business world after graduation.
Open to students from all schools and colleges, the University of Miami Ethics Society has a decade-long track record of stimulating discussion and debate into the ethical implications of our academic, professional, and social environments. Members endeavor to spread an understanding of ethics and critical thinking throughout society—in law, medicine, politics, business, information technology, and other fields. Members delve into these issues through special programs and presentations, panel discussions, and collaborations with other groups. They also compete in nationally recognized case competitions to augment their studies in the discipline through discussion and argument in a competitive setting.
The mission of the Hyperion Council is to recognize the superior qualities and achievements of student leaders from Miami Herbert. Students consult for and mentor micro and small businesses in at-risk communities around the hemisphere.
UMock Trial Team, a competitive team that works towards fostering interest and growth in the fields of litigation and trial advocacy, provides a unique, learning-through-doing experience. The team travels the nation competing at Yale, Cornell, UPenn, and Washington St. Louis throughout the academic year.
The University of Miami Model United Nations team is open to students from all schools and colleges. Members practice research, debate, and public speaking skills while learning about world issues. Enthusiastic and collegial, the team builds experiences that foster camaraderie and allow for the sharing of common interests.
The Miami Chapter of the National Association of Black Accountants, organized in 1975, provides diverse students interested in the accounting profession and financial services industry with professional development and networking opportunities while stimulating community awareness.
The Real Estate and Finance Association, open to students from all schools and colleges, provides networking opportunities, career development activities, and industry exposure to students interested in a career in the real estate industry. Members are able to familiarize themselves with the varying segments of the industry, learn the South Florida market, and connect with local industry professionals.
Target 'Canes is a mentorship and development program, where underclassmen are given the opportunity to utilize the knowledge and guidance of successful upperclassmen to prepare for the internship recruiting process. The club serves to create an organized system where fellow 'Canes help each other to become competitive candidates for top business internships.
Open to business and pre-health students, HealthCanes fosters interest amongst the student body about current events in health care from a multitude of perspectives. The club provides resources and professional development to prepare members for the internship recruiting process in the healthcare industry.
Women in Business (WIB), open to students from all schools and colleges, is designed to foster an inclusive perspective about the issues that uniquely affect women in the workplace. The club also offers professional development and networking opportunities with senior female executives. Additionally, members place a priority on community service.