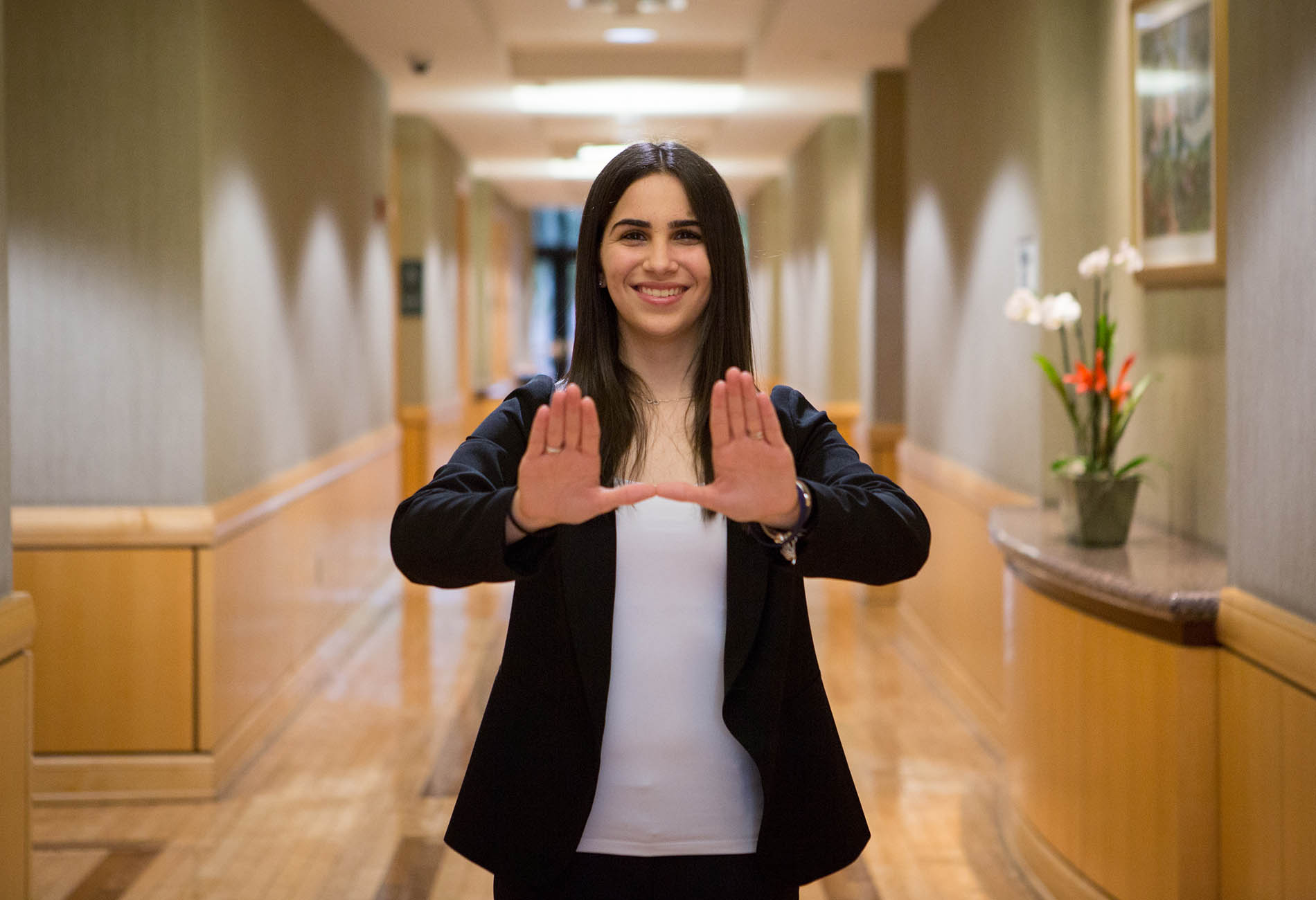 Double 'Cane Scholars Program
Double 'Cane Scholars Program
If you are completing your undergraduate studies at the University of Miami in the upcoming fall or spring semester and are interested in a future in business, the Double 'Cane Scholars Program is designed for you.

Leverage your passion to get ahead. Gain new skills in your area of interest to supercharge your career potential. Armed with a Miami Herbert specialized master's degree you'll be more valuable to organizations and more competitive in the marketplace. Join Miami Herbert as a graduate business student and keep accelerating your "U" spirit and your career.

We invite you to continue your journey with the "U" and take advantage of the great experience at Miami Herbert. As a Double 'Cane, you will receive personalized support during your application process for a Miami Herbert specialized master's program, as well as priority consideration for a Double 'Cane Scholarship.
Join an Info Session
One of your first steps is to join us at a Miami Herbert Business School Specialized Master's Programs information session. During these virtual events, you will have the opportunity to connect with academic directors and admissions representatives, learn about program offerings, the application process, what the committee looks for in a candidate, get your questions answered, and more importantly, explore what sets Miami Herbert specialized master's programs apart!

Program


 Dates & Times

 Registration Link



Master of Science in Accountancy
Master of Science in Taxation

Thursday, Sep. 14, 2023 | 1:00 p.m.
Thursday, Oct. 19, 2023 | 6:00 p.m.
Wednesday, Nov. 15, 2023 | 12:00 p.m.

Register Here 


Master of Science in Business Analytics

Thursday, Sep. 14, 2023 | 12:00 p.m.
Tuesday, Oct. 10, 2023 | 12:00 p.m.
Thursday, Nov. 9, 2023 | 12:00 p.m.
Tuesday, Dec. 12, 2023 | 12:00 p.m.

Master of Science in Finance
Thursday, Sep. 21, 2023 | 12:00 p.m.
Thursday, Oct. 26, 2023 | 6:00 p.m.
Thursday, Nov. 16, 2023 | 6:00 p.m.

Master of Health Administration

Friday, Sep. 15, 2023 | 11:30 a.m.
Friday, Oct. 20, 2023 | 11:30 a.m.
Friday, Nov. 17, 2023 | 11:30 a.m.
Friday, Dec. 15, 2023 | 11:30 a.m.



Master in International Business

Friday, Aug. 25, 2023 | 10:00 - 11:00 a.m.
Friday, Sep. 8, 2023 | 10:00 - 11:00 a.m.
Friday, Sep. 22, 2023 | 10:00 - 11:00 a.m.
Friday, Oct. 6, 2023 | 10:00 - 11:00 a.m.
Friday, Oct. 20, 2023 | 10:00 - 11:00 a.m.
Friday, Nov. 3, 2023 | 10:00 - 11:00 a.m.
Friday, Nov. 17, 2023 | 10:00 - 11:00 a.m.
Friday, Dec. 1, 2023 | 10:00 - 11:00 a.m.

 

Master of Science in Sustainable Business
Wednesday, Sep. 6, 2023 | 12 p.m.
Wednesday, Oct. 4, 2023 | 12 p.m.
Wednesday, Nov. 8, 2023 | 12 p.m.
Wednesday, Dec. 6, 2023 | 12 p.m.
Register Here